Advisory Services to the Hospitality Industry
Let us help you get PEACE OF MIND!
Strategy, Business Planning, Profitability Analysis, Menu Engineering, Forecasts & Budgeting, Restructuring, Workforce & Recruiting, Growth Planning, Project Management and Advocacy Solutions.
At Hospitality Advisory Australia we appreciate the challenges involved in running a successful hospitaliy business.  Managing cashflow, keeping suppliers and customers happy, meeting state & federal requirements, workforce issues, product development, training & development, and exit/growth planning - the list goes on and the demands and decisions are continuous and stressful.
Add the recent cost, wages, inflation and interest rate pressures to an already stressed economy and the challenge is multiplied many times over.  Indeed many businesses will become financially distressed over this time and may be forced to consider options, while others may be required to pivot in order to survive in a new economic reality.
At Hospitality Advisory Australia we provide solutions to help your business not only survive post pandemic, but to thrive.
We will help in establishing and refining your vision for the future and creating a strategy for how to achieve it.  An effective strategy will include the where you want to be in the future (mission, vision, values), the what you want to achieve (goals, objectives) and the how you are going to get there (strategic plans, outcomes and actions), and should always include a mechanism for measuring progress along the way. Don't delay, take control of your business future!
Contact us TODAY!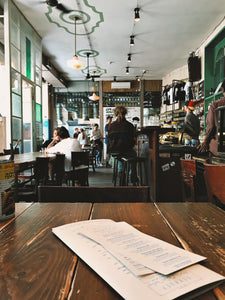 "COVID-19 has meant that hospitality will never ever be the same.  It has forced industry champions to reframe their thinking, tweak at the edges or make wholesale pivots.  This book distils a lifetime of learning, couched in contagious enthusiasm.  It will be the go to bible for navigating the choppy sea ahead.  Wes is a leader with integrity and commercial sensitivity.  In a short period of time he has left footsteps in my life and earned my trust.  I am proud to call him a friend and even prouder of his ability to turn around this book.  Do yourself a favour and read it immediately."

Salvatore Malatesta, CEO & Creative Director, ST, ALi
"A good read for everyone in hospitality. Written by a person who cares and that's willing to go the extra mile."

John Gambaro, CEO Gambaro Group
"Insightful, it's the real deal on how to succeed in one of the world's toughest businesses. "

Chris Lucas, CEO Lucas Group
"The industry I have dedicated my life to is something I love with all I have. Over the years I have bleed with my fellow hospitality workmates and together we have helped forge the vibrant and world class restaurant scene we have had the privilege of enjoying. Our industry has always been one filled with loyal and passionate people who give all they have without wanting anything in return. We are here to serve and create memoires for all who intrust us. Now the world is under attack and our future is uncertain. Now we are the ones who are in need of service, we need guidance and leadership in managing the legal and political landscape of our uncertain future. Wes has been the light our industry has longed for and needed."

Shane Delia, Director Delia Group
You are writing about a very complex, tough and intimidating time in global restaurant history.  And in your writing, you are dis-arming the monster. You are showing the reader how to be stronger, smarter and in control. Yes, dear Wes, your work is amazing.

I am reminded of an ancient Samurai saying: "The devil whispered, 'You will not survive the storm.' And the warrior replied, 'I am the storm.'

And you, my very dear friend, are the storm.

Greg Hobby, CEO Taylor & Holmes Catering
An incredibly inspiring journey from young man to Hospitality savour, a "modern day champion "on a journey to save the Hospitality Industry one venue at a time.

By applying the guidance and use of the 7 key principles outlined in this book you will have the best chance of success, as Wes says "survive to thrive"

Venessa Barnes, Food Logic
A Sydneysider on a list of SA hospitality influencers – how can that happen? The national industry association CEO has shown himself to be a defender of the South Australian hospitality sector, working with government and industry, taking online questions from Advertiser readers and always picking up the phone when SA restaurant and cafe owners called, helping them stay afloat in tough times. The Premier has tapped Lambert to be part of his 15 member industry response and recovery council so he'll be sticking with SA to accelerate our recovery.

Jessica Galletly, Gordon Knight, Michelle Etheridge, Katie Spain, The Advertiser
#1 Wes Lambert - The Rock Star of Aussie Hospitality

Daniel Hakim, CEO of the Club of United Business (CUB)
Legendary Stuff Mate! A true advocate for the industry.

Peter Cutcliffe, Bills Fish House